Yarra Valley is famous for its majestic wine and beautiful vineyards. There are more than 100 wineries producing quality vintages renown around the world. The Yarra Valley's relatively cool climate makes it perfectly suited for the production of high-quality Chardonnay, Pinot Noir and Sparkling Wine. Some of the world famous brands like Domaine Chandon have their vineyard fields set up at the Yarra Valley. Other well established wineries like Yering Station, Oakridge and Tokar Estate combine perfectly with boutique houses such as Dominique Portet, Balgownie Estate and Bianchet to create a unique feel for the winery region.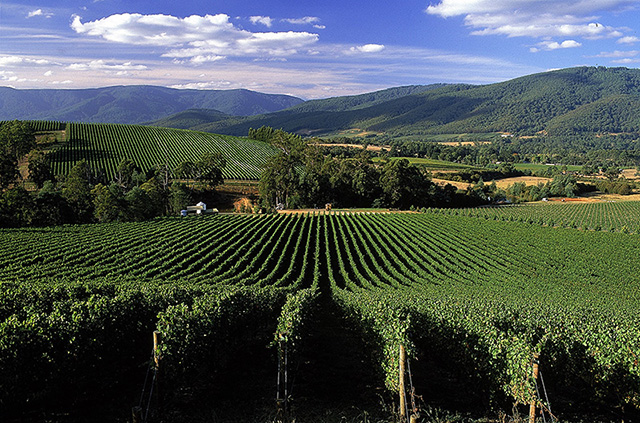 Yarra Valley history
The first Yarra Valley vineyard, Yering Station was planted in 1838. It was a family-owned business committed to producing some of the best wine in the state. And it still does so today. After a major restoration in 1989, and the addition of a restaurant, self-guided tours and a produce store, it is now an important part of the region's history.
After Yering Station started producing, it was followed by two more vineyards, and these three Yarra Valley wineries dominated 430 acres of the region. A boom-time followed and Yarra Valley in Victoria began producing wine that captured national attention and won international awards.
In the 1930s, the Great Depression struck and the Yarra Valley was not spared. A combination of economic misery and bad weather meant that by 1937 every vineyard in the region had turned into farming land. Its period as a wine-growing region was temporarily forgotten.
But the opportunities for potential wine growers remained and, by 1963, Wantirna Estate was born. Soon, new vineyards and even some older ones popped up and the Yarra Valley region was back to doing what it did best. In 1989, even the original Yering Station was replanted.
These days the Yarra Valley hosts more than hundred wineries and is considered as a leading winery region of Australia and the world. The region is synonymous with the production of high quality wine, mainly the major grape varieties like Merlot, Cabernet Sauvignon, Pinot Noir, and of course the Chardonnay and Sauvignon Blanc. All this made the Yarra Valley a favourite Victorian tourist destination.
And they don't just do wine. Many wineries in Yarra Valley now provide visitors with an experience beyond stopping in for some wine tasting. Many have restaurants, guided tours, produce stores and cellar door sales. And if you want to stay longer, some even provide tranquil holiday accommodation in the way of bed and breakfast, apartments or cabins.
For a chance to see the wineries at their best, and immerse yourself in delicious wine, food and luxury, contact us on 03 840 04999 or via our booking page to see how we can make your tour special.
Yarra Valley restaurants
Yarra Valley, in Melbourne Victoria is one of the most picturesque locations in the state. So when you visit a restaurant in the Yarra wine region, it's no surprise that you will get, not only a great meal, but a great experience to rival any Melbourne restaurant.
Many of the Yarra Valley wineries with sweeping views of the valley and Dandenong Ranges take full advantage of their location by also providing a restaurant and sumptuous menus. Many are family-owned and offer great service, as well as a relaxing way to spend your afternoon. Do a little wine tasting, and take a wine and vineyard tour as well.
For lunch or dinner with a difference providing stunning views across Yarra Valley vineyards, try one of the award winning restaurants such as Tokar Estate, Balgownie Estate or Oakridge – you won't be disappointed. We organise our tour lunch at one of those spectacular places, so to taste delicious food and experience unforgettable views contact us to get your table booked earlier at our special guest rates that we negotiate with restaurants as a premium tour provider. You win all the way.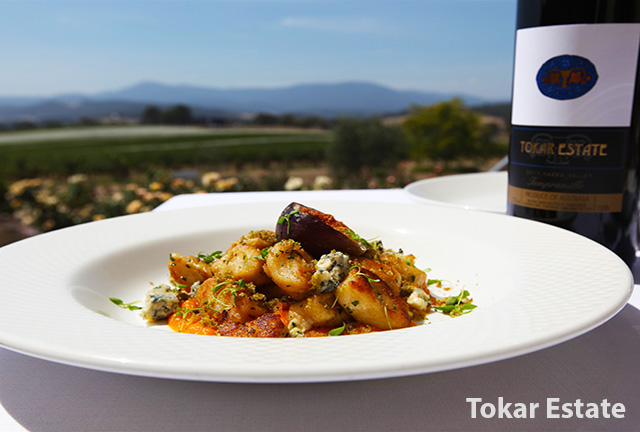 Domaine Chandon
In the 1960s, Moët & Chandon began exploring the potential for producing world class sparkling wines outside France. Having established successful Chandon Estates in Argentina, Brazil and California, they saw the opportunity to produce a premium quality sparkling wine in Australia.
During the mid-eighties, a group of Australian wine experts were engaged to find an ideal site for growing traditional cool climate champagne grape varieties. Nestling in the Yarra Valley, they found an old dairy farm named 'Green Point' with the perfect combination of cool climate and great soil. Since 1986, this has been the site of Domaine Chandon.
By the early 1990s, the Chandon winemaking team began producing small quantities of still wines, primarily for Cellar Door. They sourced grapes from some of the exceptional Victorian vineyards which supplied fruit for Chandon sparkling wines.
All Chandon sparkling wines are created using the centuries-old 'méthode traditionnelle', developed in the Champagne region of France. After the grapes are pressed, the juice undergoes two separate fermentations, the second taking place in individual bottles producing the fine bubbles of great sparkling wine. Méthode traditionnelle wines are made exclusively from chardonnay, pinot noir and pinot meunier grape varieties, each imparting classic varietal flavours, elegance and finesse.
Yering Station vineyard
Victoria's first vineyard was planted at Yering Station in 1838. The Scottish-born Ryrie brothers ventured into the Yarra Valley as they moved their cattle south from Sydney. Taking up a grazing license of 43 000 acres, they named the property 'Yering', its Aboriginal name. The Ryrie's planted two varieties, the Black Cluster of Hamburg and a white grape variety called Sweetwater. During the early 1850's they returned to Sydney and Paul de Castella took ownership of Yering Station, developing the property from what remained primarily a cattle station into a landmark of winemaking in Victoria.
For years the Yering Station vineyard was one of the largest in the area and as visitors and holiday makers to the Yarra Valley began to increase, wines from this new region began to make their mark on the world.
After changing hands several times throughout the early-to-mid 1900's, Yering Station was purchased by the Rathbone family in 1996. A further 100 acres of vines were planted and that same year a joint venture was signed with Champagne Devaux, a leading Champagne house in France, to make the now famed Yarrabank sparkling. The Rathbone family made plans for the development of a state-of-the-art winery to accommodate and complement the anticipated increase in winemaking standards. John Evans moved across from nearby Yarra Ridge to manage the expanding vineyards.
Today Yering Station remains true to its heritage as a family-owned and operated winery dedicated to producing wines of quality and distinction. The Rathbone family is committed to providing an environment that allows its passionate young team to thrive. In recent times, this vision has culminated in some exciting recognition, with the 'International Winemaker of the Year' at the highly coveted International Wine and Spirit Competition, London in 2004. As well as the property's induction into the Australian Tourism Awards 'Hall of Fame' in 2006.
Tokar Estate
When Leon and Rita Tokar purchased the property of Tokar Estate in June 1995, the land was covered in thistles, tussock grass and snakes. The plan was initially to produce grapes for their own consumption only – "to play at making wine ourselves, for ourselves".
However, the fabulous positioning of the site coupled with the extremely fertile soils made it an ideal location to undertake a modest planting of Pinot Noir. With that, Leon Tokar's vision was born and in 1996 the Vineyard itself was established in the Yarra Valley, with 30 acres under vines and producing premium fruit by 1998.
Using their new home as a cellar door, good wine flowed as Rita prepared and served a delicious assortment of light lunches on the lush rolling lawns of the admired new estate. These occasions were not only extremely popular amongst their family friends, yet also, so personally rewarding for both Leon and Rita that it was not too long before the concept of making wines and meals on a larger scale was born. Resulting in the 'creation' of what is now proudly called Tokar Estate – a fabulous setting in the heart of the iconic Yarra Valley region.
Oakridge winery
Oakridge Wines has been capturing the spirit of the Yarra Valley for more than three decades. Established near Seville in Victoria's Yarra Valley, Oakridge Wines began as a family company. A pioneer of the Upper Yarra Valley, Oakridge recognised the potential for making great wine on the rich, red, volcanic soils of the sub-region. The turn of the century saw Oakridge move to its location in Coldstream, and become a part of one of Australia's larger wine companies. In recent times, Oakridge once again returned to family ownership.
Oakridge crafts their wines using traditional methods and local knowledge built over 30 vintages to bring out the best of every season. The Oakridge house style delivers wines known for their subtlety, elegance, freshness, purity, balance and length. Their award winning wines consistently outperform their price points and are approachable and food friendly – in short, table wines in the true sense.
Balgownie Estate
In 1969, pharmacist Stuart Anderson established central Victoria's first vines in over 80 years and by the early 1970's, was well into the production of reds that created a much need boost to the Victorian wine industry.
30 years on, Balgownie Estate is now owned and operated by Des and Rod Forrester. Brothers and wine lovers alike, who are passionate in preserving the estate's well established reputation. They have a commitment to producing high quality product and maintaing healthy vines to continually attain the perfect yield balance.
Balgownie Estate features hard clay-like soil with good moisture absorption. As a result, the resulting grapes that are produced have a heightened flavour. According to Tobias Ansted, the previous Balgownie Estate owner, the wines tend to be more "earthy and savoury", when compared to those from South Australian winery regions.
Shiraz and Cabernet sauvignon were the original vine plantings at Balgownie Estate in 1969. Today however, chardonnay and pinot noir are also planted together with smaller amounts of sangiovese, cabernet franc and viognier.
The Balgownie Estate wine range includes the: White Label, The Estate, Yarra Valley, Museum Releases and Black Label.
Rochford Wines
Located in close proximity to Domain Chandon, Rochford Wines & Estate is a remarkable destination and a spectacular place to visit. Located just one hour from the Melbourne CBD, Rochford features a Winery, Art Gallery, Restaurant, Cafe and Festival Ground in which the often hold regular events with artists such as Hunters & Collectors and Pete Murray.
Rochford is one of those places where the scenery simply captivates you, from the indoors that are beautifully designed and the Art work that they have on show is worth the effort of getting their. They have many famous artists on display from Norman Lindsay to Sidney Nolan and you may very well be coming home from your limo wine tour with one of these paintings tucked under your arm.
Whist Rochford is well know for their art and wine, often over looked is the awesome restaurant that works really well for large groups. They provide both inside and outside seating, cater for vegetarians and have a vast selection of fudge for those with a sweet tooth.
Their wine selection is good also with their award winning Chardonnay's and Crisp Spicy full flavoured Red's.
De Bortoli Winery
De Bortoli Wines is a third generation family owned wine company first established by Vittorio and Giuseppina De Bortoli in 1928. The duo migrated to Australia from Italy, from regional villas at the scenic tourist destination of the Italian Alps, near the wine producing town of Asolo.
It was their son, Deen De Bortoli, (1936 – 2003) who later went on to expanded and cement the family's reputation as master wine producers that was first initiated by his parents. Deen's children also played their part in De Bortoli's credibility for high quality premium wine, including the iconic award winning dessert wine 'Noble One'.
One thing that you are certain to find whilst visiting De Botoli, is the Italian family values that have been passed down through the generations with a culture of hard work, generosity of spirit and of sharing good food, good wine and good times with family and friends. At De Bortoli you become family and that experience alone is well worth a visit there, as the warmth and good will you receive will stay with you for a long time after your tour.
Yarra Valley Chocolaterie and Ice Creamery
Enjoy Chocolate and Ice Cream in the Yarra Valley with passionate owner operators Ian and Leanne Neeland, the husband and wife duo, who have developed a magnificent place where you can jump into the experience of tasting, sampling and indulging in very high quality products.
Set on 16 hectares of land amongst Australia's premium wine region the Yarra Valley and surrounded by picturesque vineyards, emerging grape varieties and sweeping scenery, the Yarra Valley Chocolaterie and Ice Creamery is an experience the whole family can enjoy.
View the art of chocolate making from hand-crafting to hand-packing and meet the professional chocolatiers who will inspire you with their creations. The venue features an outstanding showroom with over 150 different chocolate varieties and chocolate inspired gifts that is sure to tempt you whilst you take in the beautiful surrounding views.
The Yarra Valley Chocolaterie and Ice Creamery is a must on any visit to the wine region of Victoria and a great way to finish a tour after a few hours of tasting wines.
Yarra Valley Dairy
Yarra Valley Dairy is part of the property known as "Hubertswood" which is owned by the Mooney Family. Originally the property was named after one of the early founders and wine makers, Hubert de Castella. The property is now used for producing fine quality homemade cheeses in what is well known as one of Australia's premium winery and dairy regions. There are two sections of the Yarra Valley dairy – the cheese factory and the cheese shop.
The cheese factory uses the freshest cows milk provided by neighbouring farms and goats milk delivered regularly from the Gippsland region where the natural environment and pastures are more favourable for farming goats. The cheeses produced are fresh and soft in characteristic, made in distinctly French and Italian styles. Today the mature cheeses have become very popular and well sort after aspect of the farm. A visit here will not disappoint any one who loves high quality cheese to go with their winery tour.
Map of the Yarra Valley
If you are looking for a tourist map of the Yarra Valley, then you are in the right place! Here is a tour map, listing the best wineries to visit in the Yarra Valley, Victoria, Australia. You can visit these destinations by car or mini-van, however you get there it will be worth the effort. But if you want the ultimate touring experience with friends and family without having to worry about who is driving then you should seriously consider a tour with the Limo Wine Tour Company. The quality of experience you will get will be well worth it and something you and your guests will remember for many years to come.